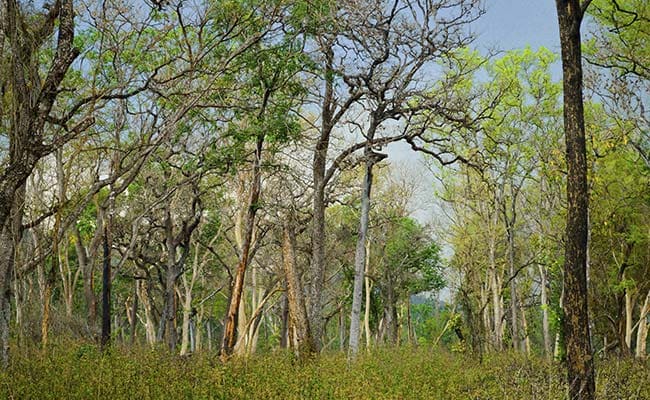 Pune:
Hundreds of activists staged the 'Chalo Chipko' (Let's Hug Trees) agitation in the Mutha riverbed in the city of Pune on Saturday to protest the cutting down of trees for the ambitious Pune River Front Development (RFD) project.
The project envisages the development of a 44-kilometer stretch of river bank that includes 22.2 km of the Mula River, 10.4 km of the Mutha River and 11.8 km of the Mula-Mutha River.
Prime Minister Narendra Modi laid the foundation for the project in March 2022.
The protesters held up placards, shouted slogans and hugged the trees along the riverbank while forming a human chain.
The activists accused the Pune Municipal Corporation (PMC) of destroying natural greenery along the riverbank near Bund Garden in the name of its River Rejuvenation Project.
A few thousand trees, including some rare and old trees, would be cut down for a 1km stretch of river bank, they claimed.
However, the PMC denied the claims, saying there were no old and rare trees among the trees that would be affected.
"During the river rejuvenation works, some trees will have to be cut down and more than 65,000 trees will be planted in their place," a press release said.
Activist Sarang Yadwadkar claimed flood levels of the Mula and Mutha rivers would rise five feet as a result of the project as the width of the watercourse will be reduced.
"The environmental clearance was granted on condition that no trees were cut down, but without a permit, the PMC has already started cutting down trees in the river bed," he claimed.
Mangesh Dighe, PMC's environmental officer, said the aim of the project is to protect the riverbank on both sides from flooding, and trees will be planted to create a green belt in the heart of the city.
"The main goal is to make the area pollution-free, since the sewage will go to the sewage treatment plant," he said.
"Approximately 10,000 trees will be affected, but more than 3,000 trees will remain. More than 4,000 trees will be transplanted and only 3,000 trees will have to be removed. The trees we will plant complement the river's ecosystem," he said.
(Except for the headline, this story was not edited by NDTV staff and was published by a syndicated feed.)
#Chipko #protest #Pune #cutting #trees #Riverfront #project
More From Shayari.Page