A 25-year-old Kentucky murder suspect was taken into custody by federal and state investigators over the weekend at a Topgolf in Indiana after a woman was found dead in an apartment.
David Profitt of Bowling Green is charged with murdering Alexandra Hemmann, 22. Those who knew and worked with Hemmann said after the suspect's arrest that she was a victim of domestic violence.
According to the the Fishers Police Department in Indiana, a warrant for Profitt's arrest was issued and Bowling Green Police Department "contacted the FBI Violent Crimes Task Force from the FBI's Indianapolis Field Office after they suspected" him of fleeing to the Indianapolis area over the weekend.
"Task Force Officers with the FBI VCTF began searching for Profitt who was eventually located at Top Golf in Fishers," cops said of the Saturday arrest. "Additionally, Fishers SWAT was requested to respond and ultimately apprehended Profitt without incident."
After Profitt was arrested, Detectives David Grimsley and Kyle Scharlow of the Bowling Green Police Department appeared at a briefing to provide an update on the alleged facts of the case.
Grimsley said that cops responded Saturday to 1043 Winners Circle, apartment C, in Bowling Green to perform a welfare check. Officers entered the apartment and found Hemmann dead of an apparent homicide inside the residence, Grimsley added.
Profitt was "quickly" identified as the suspect in the case, the detective said. On Saturday evening, the suspect was arrested outside of Fishers, Indiana.
"In the coming days, Profitt will be transported to the Warren County Jail" in Kentucky to face charges of murder and theft by unlawful taking, Grimsley said. "We expect additional charges as we present the case to the grand jury."
Hamilton County Jail records in Indiana show that Profitt was booked Saturday at 7:58 p.m. and held for extradition.
A Facebook account under the defendant's name using a slightly different spelling — "Proffitt" with two F's rather than "Profitt," as the name appeared in jail records and in a police press release — posted a photo on May 29, showing him out in public with Hemmann.
"Living life to its fullest," said the defendant's intro on Facebook. "I'm happy all the time lol."
Heartbroken co-workers remembered Hemmann as "sweet."
"Rest in peace to my sweet friend. I love you so much and I am so heart broken I can hardly belive it. You are loved more than you know and nothing will quite ever be the same. I will miss our morning coffees and funny sayings we made up and your random Connecticut accent that came out. Thank you for being such a great friend to me," wrote Faith Edgerton.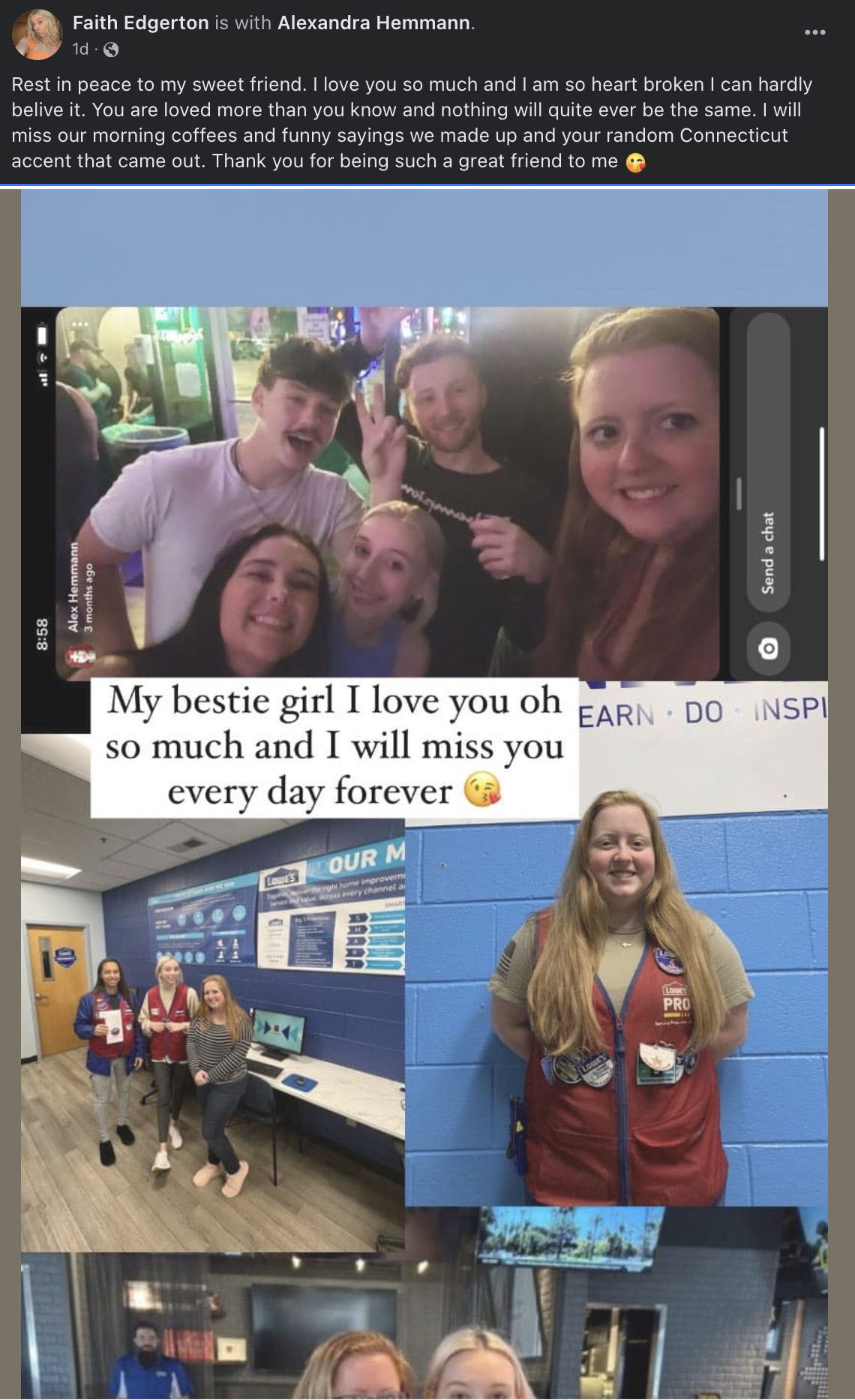 "Alexandra Hemmann was a hoot! She loved to play in the big red fire engine! This sweet, funny, hard working, wanna catch a thief, do your AP4me, young beautiful woman is gone too soon! So many of my Lowe's family is grieving for this young woman," said Monica Martin. "Please reach out if you or someone you know is going through domestic violence! Do not be silent! I will be there for you! #Justiceforalexhemmann."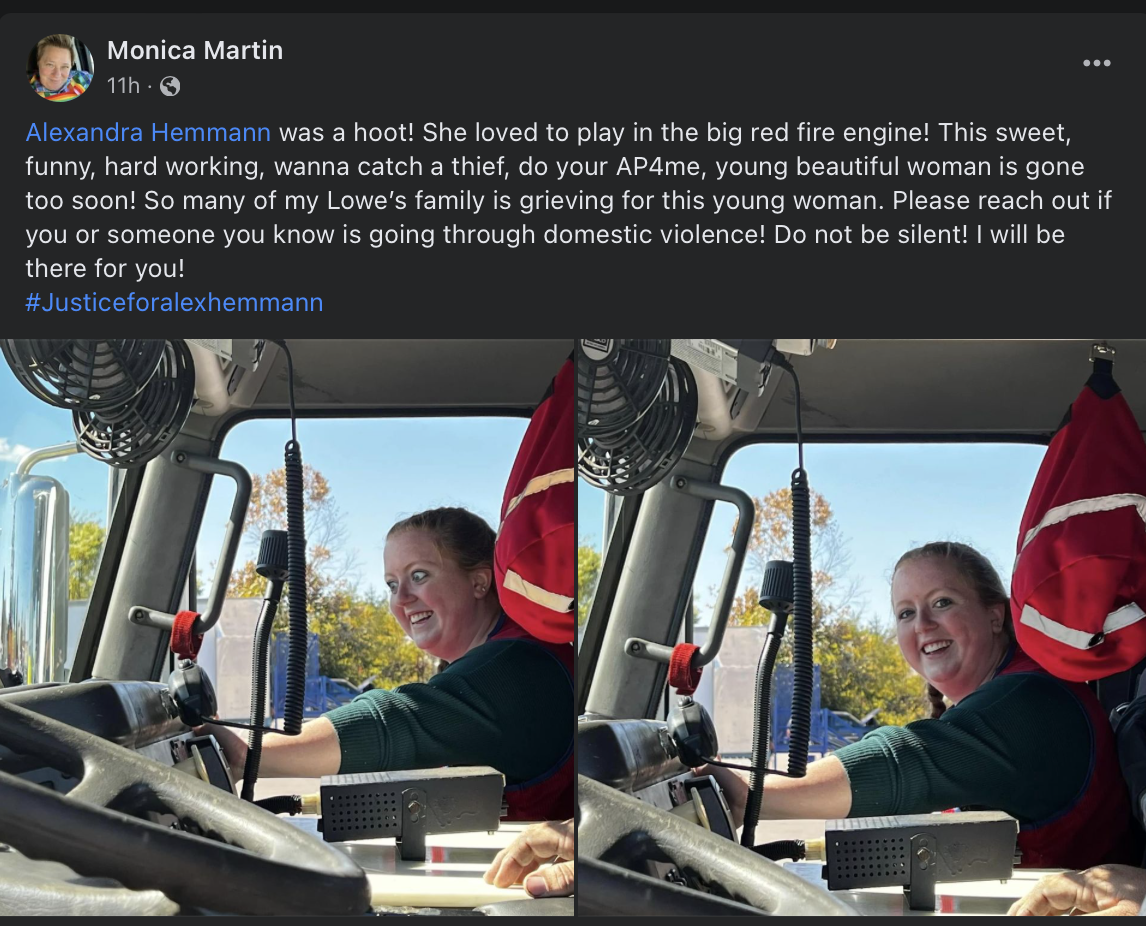 Ronda Fields, who posted multiple times on Facebook in the recent past about job openings at Lowe's and tagging Alexandra Hemmann as a member of her asset protection team, also said Sunday that she was heartbroken by the news of Hemmann's death.
"My heart is broken right now, and all I am saying is this: If you need help, it's available, I will help you get help, some way somehow we will find a way," Fields wrote, sharing contact info of the National Domestic Violence hotline. "You are all worth more than whatever a significant other/partner/parent or anyone else may be saying to you, tell someone."
Have a tip we should know? [email protected]

#David #Profitt #charged #murdering #Alexandra #Hemmann
More From Shayari.Page