Travis Scott will reportedly replace 21 Savage as Drake's partner in rhyme on the Canadian leg of the "It's All A Blur" tour.
Speculations have been rife for the past few weeks that 21 Savage will not be accompanying Drake to Canada to perform for his home shows. The rumors first emerged in March of this year due to the Atlanta rapper's ongoing immigration problems in the United States, the status of which is currently unknown.
The chatters on X, formerly Twitter, only grew louder this week when news broke that the Vancouver date was postponed until Tuesday, August 29, and Wednesday, August 30, due to safety and technical difficulties. Some fans, who have already bought tickets vent their frustration on social media.
One of Drake's fans on Reddit revealed on Monday that Travis Scott's private jet was spotted in Vancouver, a clear indication that he is set to take the stage with Drake, at least for the shows in that city and even for the duration of the Canadian tour dates. Additionally, photos of La Flame were spotted on the screens on stage the set as they tested things out before going live later tonight.
Fans on TikTok also shared videos of Travis Scott entering a restaurant in Vancouver late Monday evening after they learned that the show was canceled.
Certainly, this was not confirmed by Drake or Travis Scott's team; it's purely speculation. However, it's unlikely that 21 Savage will be taking the stage in Canada with Drake. However, Drizzy shared a message on his IG Story seemingly responding to the rumors. "Vancouver it's T TIME [tomorrow] don't you worry," he wrote.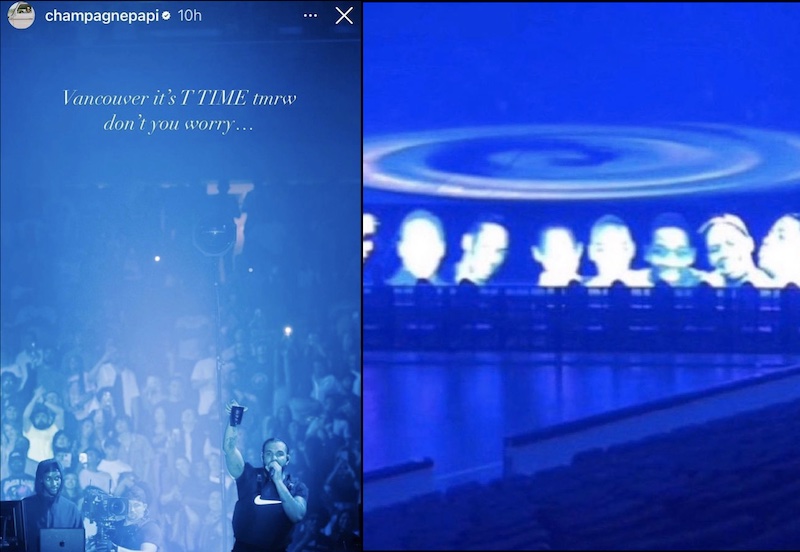 Travis Scott and Drake are frequent collaborators and are best known for linking up on the single "Sicko Mode," which earned them a Grammy nomination. They collaborated as recently as this year on the single "Meltdown" off Scott's new album Utopia.
The project is currently the No. 1 album in the United States and held the top spot on the Billboard 200 album chart for four weeks straight. Utopia is also the second rap album this year, behind Lil Uzi Vert's Pink Tape, to go No. 1 on the chart. Hence, why it makes sense for Drake to call on Travis Scott to replace 21 Savage on the "It's All A Blur" overseas tour dates.
21 Savage was arrested in 2019 following a traffic stop in Atlanta by U.S. Immigration and Customs Enforcement (ICE) agents. He was taken into ICE custody when it was revealed that he was a British citizen living in the United States illegally. In the days after his arrest, ICE revealed that Savage, whose real name is Shéyaa Bin Abraham-Joseph, entered the United States legally on a visa in 2005 but never left. He had been residing in Atlanta ever since before he became a household name as a rapper.
Earlier this year, rumors surfaced that 21 Savage has since married and is in the process of getting legal status in the United States. The rapper has never spoken about those rumors. He is also rumored to be dating rapper Latto.
#Drake #Speak #Travis #Scott #Rumored #Replace #Savage #IAAB #Tour
More From Shayari.Page