CHICAGO/BERLIN. According to a study, nuclear energy still has potential for a comeback in Germany. Five out of six nuclear power plants that have been shut down could be restarted within about a year, according to a study by Chicago-based Radiant Energy Group. Three more could supply electricity again within two to three years. For the study, the scientists spoke confidentially with board members and senior employees of operating companies and nuclear technology companies in Germany. They wanted to remain anonymous.
"The restarting of eight German nuclear reactors is possible and feasible," the authors judge. This applies to the Brokdorf, Krümmel, Emsland, Isar 2, Grohnde, Neckarwestheim 2 and Gundremmingen B and C nuclear power plants. According to the study, these reactors have "the greatest potential for restarting".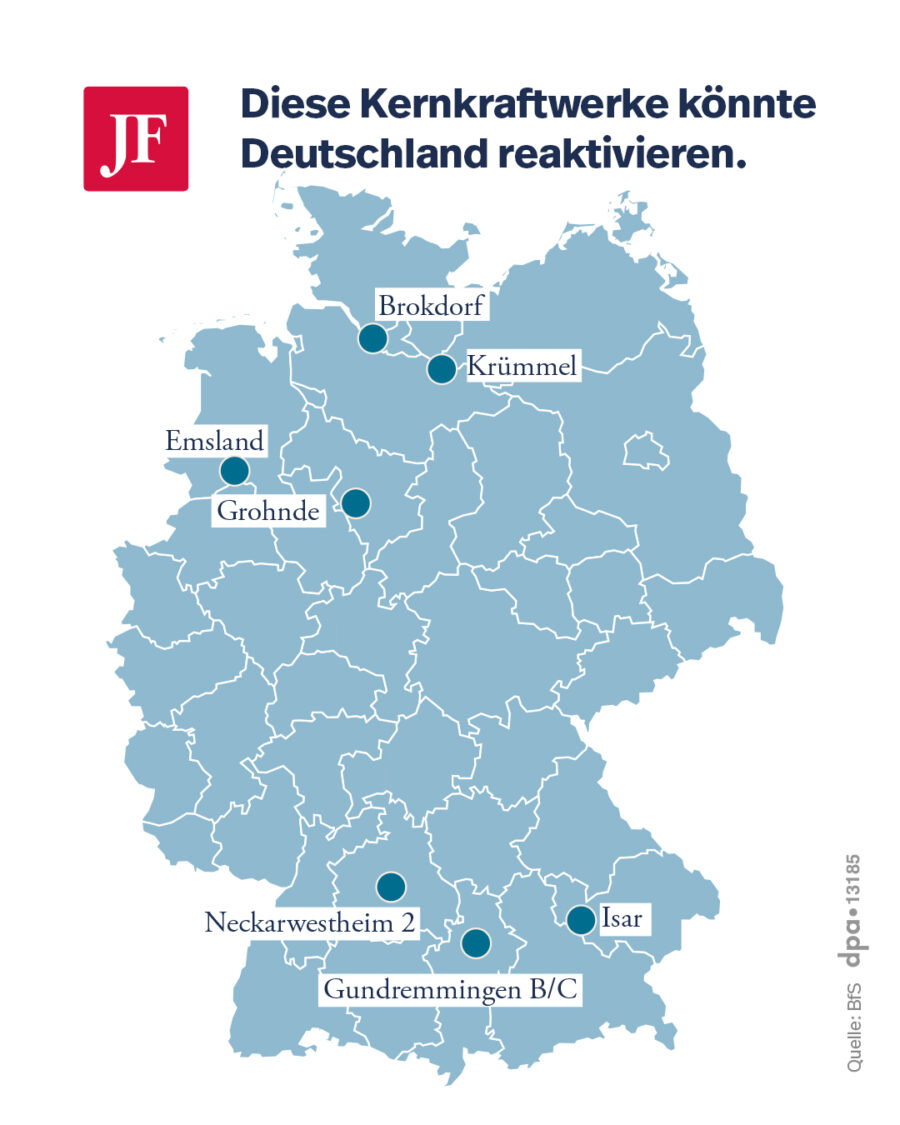 The authors of the study call the most urgent measure to stop the ongoing dismantling of power plants as soon as possible and to change laws in the Bundestag. They "urgently" recommend stopping the further destruction of facilities other than the eight mentioned if the political situation should change. In 2011, the Bundestag banned nuclear energy for commercial power generation in Germany in an amendment to the Atomic Energy Act.
Politics decides about nuclear power
The restarting of the eight nuclear power plants "in a technically excellent condition" is therefore primarily a political decision, as the study authors state. The attitude of the owner to extending the term and the existence of an operating license are also decisive. The last three reactors in Germany were shut down on April 15, 2023.
The authors of the study count the advantages of nuclear energy: If nuclear energy replaces coal-fired power generation, CO2 emissions in Germany could drop by up to 80 million tons a year. Around 50,000 well-paid jobs in rural areas were preserved. Furthermore, the restart of nuclear power plants saved German industrial production and would have an economic advantage of 250 billion euros.
Public approval also speaks in favor of continuing to use nuclear power: In a "considerable shift in public opinion" compared to spring 2021, according to the study authors, 67 percent of Germans are now in favor of nuclear power. The exception to this is that of the majority of Green voters. (approx)
#German #nuclear #power #plants #grid
More From Shayari.Page