Emily Ratajkowski is a model and actress, best known for her performance in the Blurred Lines music video. Since then, she has become something of a fashion icon, often appearing in the hottest ensembles and outfits. Ratajkowski often attends the annual Met Gala, one of the fashion industry's most anticipated events. The model revealed the inspiration behind one of her boldest looks – music icon Cher.
Emily Ratajkowski is a fixture at the annual Met Gala
Ratajkowski is known for her propensity for daring fashion. She often rocks dresses with large necklines or body-hugging silhouettes, leaving little to the imagination. This makes Ratajkowski a natural at the annual Met Gala, an event celebrating outrageous fashion and bold, themed looks. One of her first ever appearances at the Met Gala was in 2016, when she arrived at the event in a black and white Prabal Gurung gown that exuded effortless glamour.
According to insiders, the dress featured a high slit and an open back. Critics hailed the look as elegant and inspired, and Ratajkowski became a fixture at the event. Three years later, Ratajkowski walked the Met Gala carpet in a dress directly inspired by rock icon Cher.
What did Emily Ratajkowski say about her Cher-inspired dress?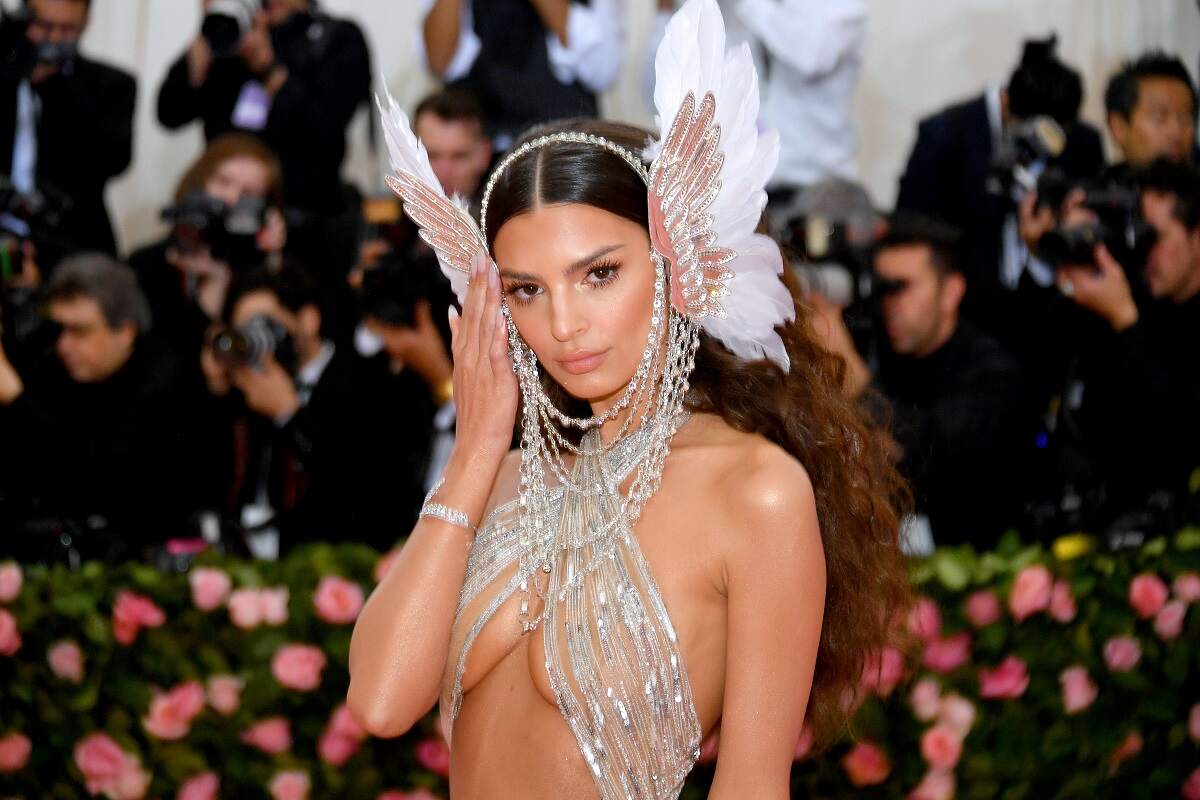 When Ratajkowski showed up for the 2019 Met Gala at the Metropolitan Museum of Art, all eyes were on the model. She wore a sparkling gown and matching headpiece designed by Peter Dundas and Evangelo Bousis. The halterneck design and nude color made many critics think of a similar ensemble worn by music superstar Cher in 1988. The resemblance was intentional, according to Ratajkowski.
According to ABC, Ratajkowski wanted to pay homage to Cher with the look. "To me, Cher is just such an icon; she is someone i have always looked up to. moonstruck was one of my favorite movies growing up. It still is," Ratajkowski said. "There's not always a moment to really pay homage to her – and we had this really great vision to do that and to push that line, and this is the opportunity to do that." For Bousis, Ratajkowski was the perfect choice, to wear the bold design: "Emily is the only person who could wear this dress; it was made for her."
"I was so nervous," Ratajkowski said in a 2023 interview with BuzzFeed. "I didn't know if it would look good." Luckily, she was happy with the results. "I like these pictures," she remarked.
Emily Ratajkowski spoke another time about being "nervous" at the Met Gala
Though Ratajkowski is known for going almost naked on red carpets, she's not immune to nervousness. At the 2022 Met Gala, the star admitted she wasn't sure about her look, a vintage Versace gown previously worn by supermodel Yasmeen Ghauri. As Ratajkowski told Vogue, "I'm nervous … I know you might think I'm over it."
She also opened up about how she's preparing for the Met Gala, noting, "I mean, I relax a lot beforehand. I used to think I need to prepare and it's like it's better not to prepare. Just go and enjoy it. But you know, I'm so nervous now." Things may seem effortless and glamorous for Ratajkowski, but as she has explained, there's a lot behind the scenes that goes into her fashion choices.
#Emily #Ratajkowski #edgy #sporting #Met #Gala #mimics #music #icon
More From Shayari.Page