Sometimes men are really to be envied. For example, after a night of drinking, they stroll calmly to the nearest subway station, only to fall into bed exhausted when they get home. With women it is completely different. The queasy feeling in the pit of your stomach spreads the second you have to start your way home. Suddenly the streets not only seem dark, but pitch black. Every noise makes you prick up your ears and even the poor guy, who might just be running behind you without any ulterior motive, is now constantly being checked for running speed and distance. Again and again the thought circles: "What if something happens now?"
Many women have long since devised a survival strategy for this case. Some rely on the front door key. Another method is to call your best friend. If it wasn't so sad, you could almost laugh about it.
Number of gang rapes at record high
It's neither irrational paranoia nor emotional over-dramatization. It is simply the realization that as a woman you are often no longer safe on German roads. For example, the number of gang rapes reached a new high last year, according to a request from AfD MP Stephan Brandner. The German authorities recorded a total of 789 such acts in 2022. That is more than two per day.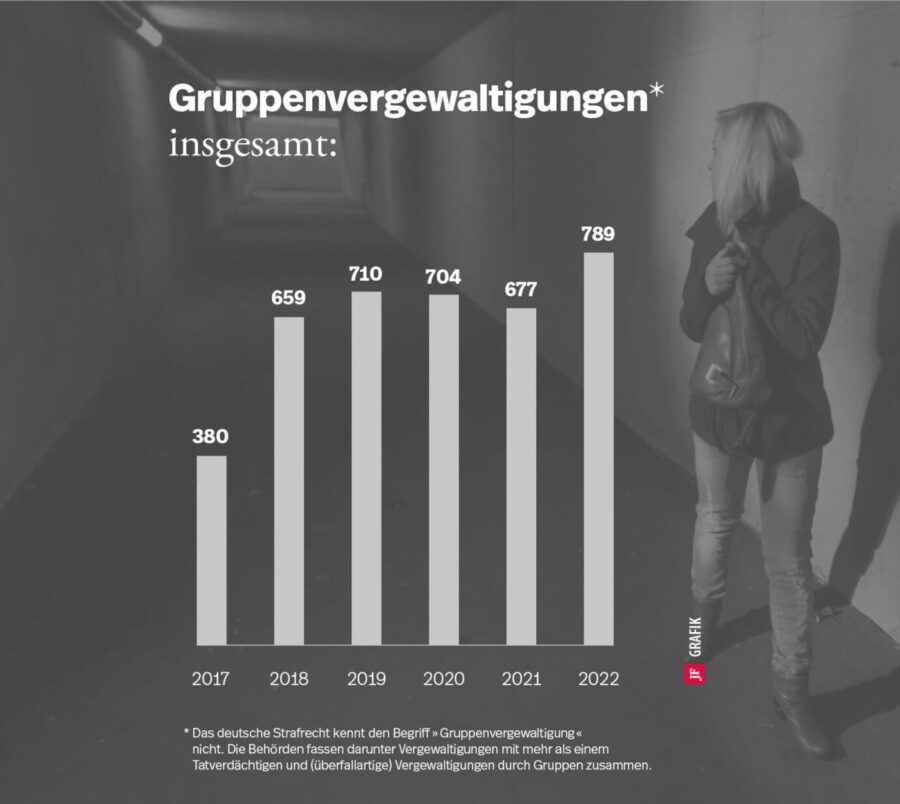 Mind you: It's only about those sexual assaults with more than one perpetrator. Gang rapes are one of those phenomena that have increased since the influx of refugees in 2015 and have now been filed away in the drawer of tragic isolated cases. "Germans rape too." Well then. The strongest increase in such offenses was from 2015 to 2016. At that time, the value jumped from 400 to 749 reported acts.
The victims are mostly German women
Although foreigners make up only around 14 percent of the total population, the police identified more migrant suspects than Germans in gang rapes last year (albeit slightly). A possible migration background has not even been factored out for the alleged German perpetrators. Overall, German and non-German citizens face each other about 50 to 50.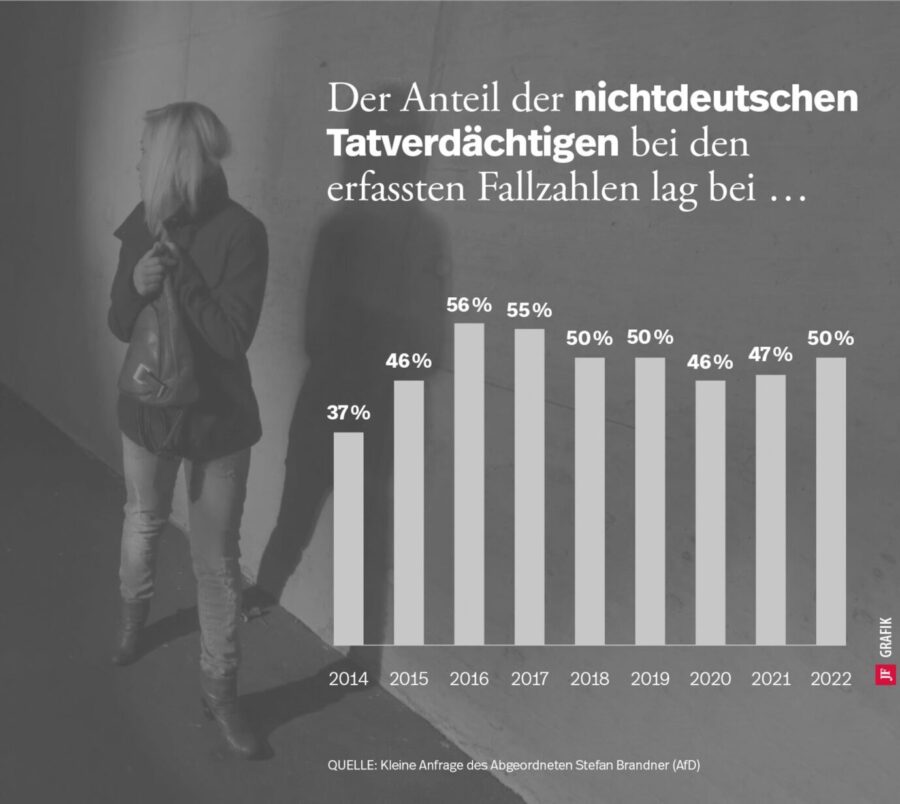 Most of the suspects without a German passport have come from Syria and Afghanistan almost every year since 2015. With this knowledge, politicians have long since made themselves complicit. It has failed to put the well-being of its own citizens above the well-being of foreign citizens. It is mainly German women who have to pay the price for this. They make up the vast majority of gang rape victims. There are almost no ways to protect yourself.
Germany wasn't always like this
Emma S., for example, had to experience this firsthand in 2019. The then 15-year-old was lured into a bush on a September night and raped by eleven men. Arsen K. and Fares L. (then 19 and 20 years old) also filmed the crime.
The excuses after such brutal incidents are almost as unbearable as the deeds themselves. No, Germany wasn't always like this. Anyone who was born in the 90s at the latest knows that things were different at one time. It was a youth when you could sit around the campfire late into the summer night with friends of both sexes and later go home without fear.
Close borders and deport!
Even then, of course, there was already crime. However, the number and intensity of sex acts has changed so much that consciousness has also shifted. Instead of possibly slightly naive composure, fear now dominates. Traveling by train is becoming a constant test of nerves for women. From applications in broken English by Africans willing to marry to young men of Arabic origin who will not accept a polite no, everything is included. If you are looking for the special kick of humiliation, you only have to walk past a large group of men at Berlin Zoo station once at night as a woman alone. The sayings and looks are almost pre-programmed. Do we really want to live like this?
If politicians were interested in the well-being of women, they would only have one option: close borders, keep deporting foreign offenders, impose heavy penalties on Germans. Anyone who destroys someone's life has forfeited the right to protection of their own in the host country.
There is no moral obligation to take on an incalculable security risk for residents of other countries. For protecting your own people but yes. The fact that the government is still not acting, despite the record number of gang rapes and the fact that foreigners are massively overrepresented, only shows where they place German citizens in their list of priorities: namely at the bottom.
Follow @ZitaTipold

#Gang #Rape #Record #High #Live
More From Shayari.Page