Public school teachers in North Dakota would be allowed to ignore the pronouns their transgender students use, according to a bill Senate lawmakers passed by a veto-proof majority on Thursday.
The bill would also allow government agency employees to ignore the pronouns used by their transgender counterparts. Also, it would ban transgender public school students from using the bathroom of their choice unless they have the consent of a parent or guardian. Additionally, teachers would be required to notify a student's parent or guardian if the student identifies as transgender.
The passage comes just days after House lawmakers also passed the bill by a veto-proof majority, meaning the bill could go into effect without Republican Gov. Doug Burgum's approval.
NORTH DAKOTA BILL RESTRICTS BATHROOM USE TO TRANSGENDER PEOPLE
Senate lawmakers did not debate the bill Thursday before passing it by a vote of 40 to 6.
Republican Rep. Karen Rohr spoke in support of the bill this week, saying the bill contained language the governor said "he had no objection to signing." Mandan lawmakers said the bill was "also consistent with the governor's statement that parents should be involved in such situations."
Republican Rep. Cynthia Schreiber-Beck, who opposed the law, said it doesn't go far enough. "I have real concerns that this only targets public schools," the Wahpeton lawmaker said, adding that private schools that receive state and federal funding should also be included.
House lawmakers passed the law Tuesday by a vote of 68 to 22. House Democrats didn't speak on the bill this week, but all 12 voted against it — along with 10 House Republicans.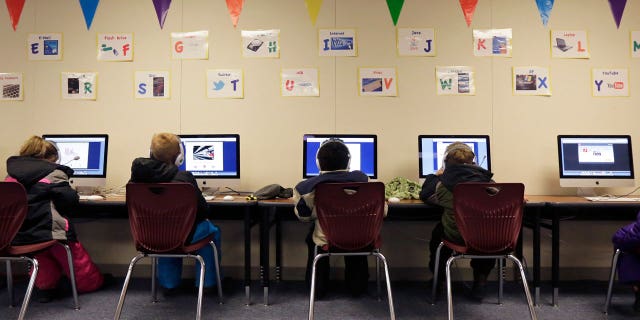 The bill now goes to the governor for consideration.
If Burgum signs the law, it would go into effect immediately.
The bill could also become law if Burgum does not sign it within three days of receipt. Should he veto the bill, the House and Senate lawmakers would likely override his veto and the bill would become law.
Burgum signed several bills this month restricting transgender rights.
One prohibits transgender children and adults from accessing bathrooms, locker rooms, or showers in dormitories at state colleges and correctional facilities that conform to their gender identity.
NORTH DAKOTA HOUSE PASSES TRANS BATHROOMS, SEXUALLY EXPLICIT CHILDREN'S BOOK BANNING
Another restricts transgender health care in the state, making it an outright crime to give sex reassignments and hormones to minors. And another bans transgender girls and women from joining female athletic teams in K-12 and college.
Burgum vetoed another bill last month that would also have allowed teachers to ignore the pronouns their transgender students use. The Senate then voted to override his veto, but the House of Representatives eventually voted to leave his veto in place. Days later, the Senate resumed efforts, inserting language from the old bill on personal pronouns in schools and government agencies into the new bill, which passed both chambers this week.
The effort in North Dakota is part of a larger push by US Republicans to limit or roll back LGBTQ rights.
CLICK HERE TO GET THE FOX NEWS APP
At least 21 states restrict or ban the participation of male-to-female transgender athletes in women's sports, and at least 14 states have restricted or banned transgender practices for minors. In addition, at least eight states have enacted laws preventing transgender people from using the toilets associated with their gender identity.
#North #Dakota #law #allowing #teachers #ignore #student #pronouns #Gov #Burgums #desk
More From Shayari.Page