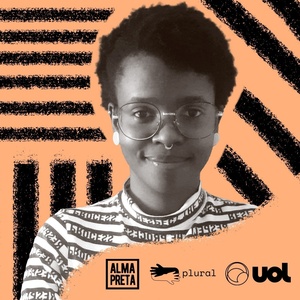 In this episode of Papo Preto, Renato Cafuzo, illustrator and now author of the book 'Moleque Piranha', talks about the importance of representativeness and identification of black and peripheral children with children's literature. His first book as an author will make up the collection of 20 community libraries in Baixada Fluminense and more than 50 schools in Complexo da Maré.
He says that this title gives the name to a character she has been working with for 10 years, who is a rather angry fish with hands and legs. "I really like the term moleque piranha, it's a joke to be able to take advantage of a cultural element that the favela produced, I would never dream that it could become a material aimed at children", he says. from 08:25 of the above file.
Cafuzo says that the launch of the book was at a skate park that he usually goes to with his daughter and that he had to explain to other parents the meaning of the title because the word 'piranha' was a little scary. "I remember saying, at the time, that the name of the book was for us adults to think about the relationship we create with words and how we make it accessible to children".
The children that the author portrays in the book are black and live in the favela, because he believes that he needs to tell stories like his, like his daughter's, because "there are already many stories about white children". Cafuzo regrets the fact that law number 10,639, which made it mandatory to teach Afro-Brazilian history and culture in schools 20 years ago, is not respected.
"There are two problems with the application of this law, one is the lack of guarantees that it will happen safely, for example, we put a book as a reading indication for it to be attacked. The other that is alleged is the lack of options and offers, with the excuse that they did not find sources to work on the prerogative of this law in the school space, and this is a very delicate issue because there are loads of projects, they have to be encouraged" (from 13:03 of the file above).
Papo Preto is a podcast produced by Alma Preta, a journalism agency with social themes, in partnership with the UOL Plurala collaborative project between the UOL, collective and independent vehicles. New episodes air every Wednesday.
Podcasts are audio programs that can be listened to anytime and anywhere — on your computer, smartphone or other device with an internet connection. You can listen to Papo Preto on the UOL YouTube channel and on the podcast platforms Spotify, Google Podcast, Deezer, Apple Podcast and CastBox.

#Papo #Preto #Black #narratives #childrens #literature