US climate envoy John Kerry and former White House press secretary Jen Psaki chatted about the dire state of the planet and "Forrest Gump" over ice cream on Psaki's new MSNBC show on Sunday.
Psaki, who was Kerry's State Department spokeswoman during the Obama administration, introduced the "Inside with Jen Psaki" section by saying she met with Kerry "on the National Mall for an extensive discussion and a little dessert."
The discussion remained very light-hearted, with Kerry recalling his mother's influence on his environmental activism and praising younger generations for leading the fight against climate change. Immediately after Kerry declared "the planet is in danger," Psaki suggested an ice break. —
"It probably sounds a bit pompous to say, but the planet is in danger. I mean it's endangered," Kerry said.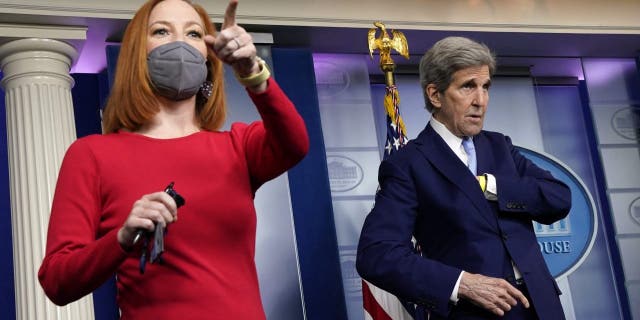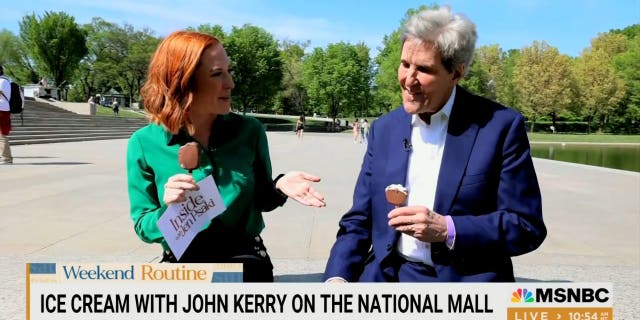 KERRY TELL US CHINA MUST WORK TOGETHER ON CLIMATE, WORLD 'NOT DOING ENOUGH'
"Well," Psaki turned around, "I remember well that you have a little sweet tooth. Do you want to get an ice cream over there?"
"That would hit the nail on the head," Kerry replied.
"Let's do it," Psaki said.
Jazz music then played in the segment as Psaki and Kerry strolled over to a vendor in a mall and looked at the menu. Both quickly settled on the $4.50 Dove Bar.
"What do we have here? A Dove bar," Psaki said.
"Pigeon bar? Oh, Dove, I love Dove," Kerry exclaimed. "Dove Bar – I'll have a Dove Bar. What do you want?"
"I'll also have a Dove bar," Psaki replied.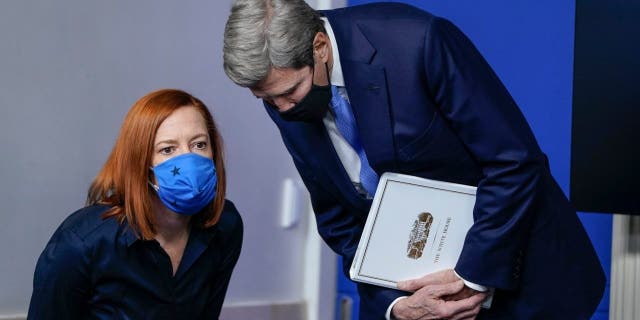 The two then ate their ice cream while walking along the Lincoln Memorial Reflecting Pool.
"So I know you like 'Forrest Gump' a little," Psaki said. "Does that remind you – you lived a bit like Forrest Gump."
"I've had a few Forrest Gump moments," Kerry said. "Every time I'm here, I think about him yelling at Jenny here in the pool."
At the end of the short segment, Kerry and Psaki did a "Cheers with Dove Bars."
The Republican National Committee mocked the "hit-hitting interview" on Twitter.
Steve Guest, Sen. Cruz', R-Texas, Special Counsel for Communications, shared a 2014 photo showing Psaki wearing a Russian hat with the Communist hammer and sickle logo while posing with then-Secretary of State Kerry .
Camryn Kinsey, who previously worked in the Trump administration and serves as a spokeswoman for the Maritime Classic Foundation, shot Psaki and said she can't answer tough questions as White House press secretary and can't ask tough questions at MSNBC.
CLICK HERE TO GET THE FOX NEWS APP
#Psaki #Dessert #Powerful #Interview #Boss #Dont #Difficult #Questions
More From Shayari.Page