It's not easy for Shaquille O'Neal to hide from anyone or anything. First off, not only is he extremely famous, he may be the most easy-to-recognize celebrity on earth. I see Shaq from time to time because his kids go to school across the street from where my dog goes to daycare. Even from a distance of 30-40 feet, Shaq is unmistakable. It's simply impossible for your eyes to not be drawn to the 7-foot-1, 325 pound man getting out of an enormous Cadillac Escalade (decorated with a custom Super Man "S" grille). And as soon as he steps out of the Suburban, this behemoth of a man is mobbed by a half dozen people asking for selfies.
Like I said, he's maybe the most recognizable celebrity on earth. And that has been Shaq's life every single time he has stepped outside for the last 30 years. He simply can't hide from anything when he goes out in public. For example, here's Shaq trying to hide from a paparazzi:
Ok obviously he's being cheeky in the above photo, but how does Shaq avoid being seen or found when he really doesn't want to be seen or found?
Nowadays literally every other celebrity on the planet can go a week without being recognized by simply wearing a hat and mask in public. To reiterate, Shaq is a 7-foot-1, 325 pound man who also has an extremely distinctive voice. A mask and a hat are simply not going to cut it.
So what does Shaq do to hide from something or someone when he really really doesn't want to be noticed? For example a process server who is trying to serve him with a lawsuit connected to the largest crypto scandal of all time (so far)? Well, according to a recent complaint from a lawyer trying to do just that, Shaq simply hides out in his Texas mansion.
As first reported by Forbes, Shaq is one of a dozen celebrities named in a class-action lawsuit filed in Florida last November in the wake of the collapse of Sam Bankman-Fried's disgraced crypto exchange FTX.
The person filing the lawsuit is an Oklahoma resident named Edwin Garrison who claims he opened an FTX account (and presumably lost some money) after "being exposed to" the exchange thanks to the company's numerous and unavoidable celebrity endorsements.
We've covered this a bunch previously, but to quickly recap, at its peak FTX tapped more than dozen celebrities to promote the exchange in billboards, tweets and commercials. In addition to Shaq, here's are some other major celebrities who promoted FTX in some capacity:
Tom Brady
Gisele Bundchen
Steph Curry
Naomi Osaka
Trevor Lawrence
Kevin O'Leary
David Ortiz
Shohei Ohtani
Larry David
In exchange for an unknown, but presumably large amount of money and/or equity, Shaq hosted an FTX party aboard a Carnival cruise ship (another sponsor of his), published a few of pro-FTX tweets and appeared in a commercial for the company spouting its now infamous "I'm all in, are you?" tagline.
Ironically, the whole joke of the commercial is that it's impossible not to recognize Shaq even when he's disguised. In the commercial, FTX is trying to keep the identity of their exciting new ambassador hidden, but the joke is that Shaq is impossible to hide even with a voice modulator, wig and blur effect. It's like the creative team brainstormed for 4 minutes and went with the very first idea someone had. Actually I'm sure that's exactly what happened.
Back to the lawsuit and trying to serve Shaq….
Forbes recently came into possession of an email sent by lawyers representing "all FTX Defendants and their counsel" (aka, lawyers for Edwin Garrison speaking to the celebrity defendants). The quick summary of the email (it's long) is that the lawyers claim to have successfully served all of the celebrity defendants except one: Shaq. Who has apparently gone to great lengths to not be served on multiple occasions at his Texas mansion.
Here's part of the email:
"… we appreciate that many of you have been cooperative, have proactively accepted service of the complaint, and have entered your appearances. Others have been more difficult to serve… Only one, however, has chosen instead to evade service in order to draw out these proceedings or to otherwise attempt to avoid answering for these allegations
…The sole remaining Defendant to accept service… is Mr. Shaquille O'Neal, who we know has discussed the existence of this case, but is apparently still actively evading service, refusing to answer his home door when approached by our process servers."
In a follow up interview with Forbes, one of the lawyers from the firm representing the alleged victims claimed:
"He admitted that his friend Steph Curry called him, told him he could make millions of dollars if he just served as a FTX Brand Ambassador and lied in a television commercial that he was 'all in' with FTX, when he admitted that personally, he would not go near cryptocurrency."
And while that does sound like a fairly incendiary statement to make, Shaquille O'Neal sits atop an endorsement empire that has made him far far far more money in retirement than he ever earned in the NBA.
Does Shaq really use all of the products he endorses?
Is that a legal/contractual or even moral requirement?
Does Shaq really take Carnival cruises? Does he only drive Buicks and really use The General for his car insurance? Actually, I can tell you from personal experience he drives a Cadillac Escalade quite often in LA. In fact, I have sneaky photo evidence: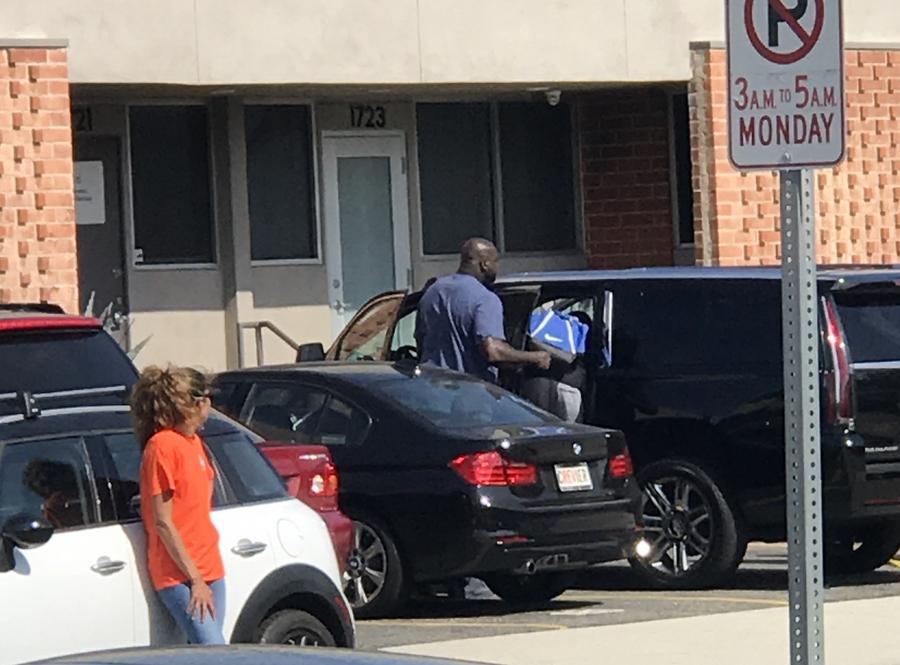 It's ultimately impossible to avoid being served in a lawsuit and it's better to just rip the bandaid off.
At some point Shaq will leave the house and the process server will pounce.
Do you remember a few months back when Olivia Wilde got served while she was in the middle of giving a speech?! Supposedly by a process server representing her ex-husband Jason Sudekis in their ongoing custody battle. That was excruciating to watch. And that could very easily happen to Shaq at his next public event.
Bottom line: When it's time to get served, don't hide from it. Face it head on. Or put another way, go "all in."