In The Flight Attendant, Cuoco plays Cassie Bowden, the titular flight attendant who becomes caught up in an international murder plot after getting blackout drunk during a layover and waking up next to a dead body. Cassie is far from a professional detective, but nevertheless she is determined to find out what really happened that night and clear her name, even if doing so forces her to finally deal with decades of family trauma including alcoholism and the death of her father. It's easy to get frustrated with a character like Cassie when you're forced to watch them continue to self-sabotage and ignore everyone that's trying to help them, but Cuoco does such a great job of grounding Cassie and plays her with such a deep empathy for what the character is going through that it makes it easy to stick around for her journey. Both of Cuoco's Emmy noms for this role are well-deserved, and once you've seen The Flight Attendant, it's easy to see why.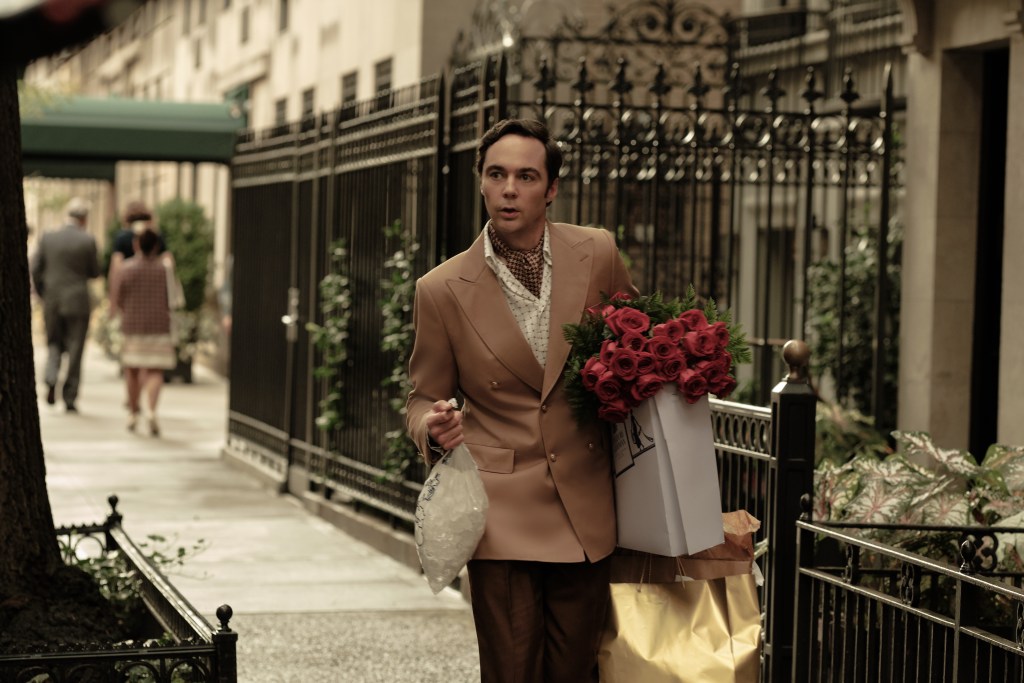 Jim Parsons – The Boys in the Band
In the years after The Big Bang Theory, it's been refreshing to see Jim Parsons take on queer roles in projects like Spoiler Alert rather than be pigeonholed into playing straight roles for the rest of his career. Things have changed a lot in regards to LGBTQ+ representation on screen in the years since BBT began, and it's great that Parsons and other queer actors don't have to worry about being shunned from roles because they're publicly themselves. 
Parsons' best role thus far is the 2020 film adaptation of the musical The Boys in the Band, in which he plays the lead role Michael. Set in 1968, The Boys in the Band is about the struggles of being openly gay during this time period and how the different characters deal with their identity. Michael is hosting a birthday party for his friend Harold, but of course this can't just be a normal party. Michael's straight college friend Alan happens to be in town and is dying to tell Michael something privately, so of course Michael invites him to the party. His performance in The Boys in the Band cements Parsons as a double-threat actor/singer and as a queer icon.
Simon Helberg – Poker Face
Standing out in a series full of guest stars like Joseph Gordon-Levitt, Adrian Brody, and Ron Perlman is no easy feat, and yet Simon Helberg manages to hold his own as one of Poker Face's few recurring characters. Helberg plays the FBI agent Luca, who Natasha Lyonne's Charlie Cale first meets while hiding out at a retirement home. He doesn't appear much in the series, but becomes one of Cale's few allies when she's framed for the murder of mob boss Sterling Frost Sr. Cale isn't one to trust "the man," but Helberg makes it easier to believe that Luca truly wants to help her and isn't looking to screw her over like so many of the other people she comes across while on the run.
Kunal Nayyar – Criminal: UK
After watching an actor play a specific type of character for over a decade, it's always interesting to see them play characters that are wildly different. Kunal Nayyar is most known for playing Raj Koothrappali on The Big Bang Theory, but his best role since then couldn't be more different from the shy scientist we know and love. In Criminal: UK, Nayyar plays Sandeep Singh, a wealthy businessman convicted of murdering a woman who refused to invest in his business. After some time in prison, he wants to cut a deal in exchange for revealing the location of another person he killed. Even though Nayyar only appears in one episode of the series' second season, he really commands the screen as Sandeep. Nayyar's performance is chilling and worth checking out in this procedural drama.
Mayim Bialik – Call Me Kat
In addition to becoming the co-host of Jeopardy!, which is a really, really cool post-BBT career move, Mayim Bialik has starred in the FOX sitcom Call Me Kat. In Call Me Kat, Bialik plays the titular character who leaves her job as a college professor to open a cat cafe. While she finds a lot more fulfillment from this career venture, Kat still struggles with the loneliness she feels as a 39-year old single woman. Just like with Amy Farrah Fowler, Bialik brings an easy relatability to Kat that makes the series fun to watch. There are also plenty of adorable kitty co-stars to help sweeten the deal.
#Big #Bang #Theory #Casts #PostBig #Bang #Roles
More From Shayari.Page