From location to service, the most expensive resorts around the globe offer a unique experience like nowhere else in the world.
From Italy to Fiji to the Philippines, some of the world's most expensive luxury resorts seem to be nestled on the pristine shores of the Pacific, Caribbean or Mediterranean. These places exude an atmosphere straight out of a movie. However, if you've ever had the opportunity to spend a night at one of these resorts, you know that far-off paradises do exist. Here's a closer look.
Some of the most expensive luxury resorts around the globe
Private island of Banwa, Philippines
The most expensive resort on our list is on a tropical island in the Philippines in the Palawan Archipelago. Though it's a high price for a night, the resort actually sleeps up to 48 people in its six beachfront villas with private infinity pools and hot tubs. With the resort's own organic farm, daily fresh catches from the sea and the ultimate privacy of this exclusive private island resort, it will be the vacation of a lifetime.
Price: $100,000 per night (price reduced to $45,000 during the 2021 pandemic)
Grand Resort Lagonissi, Greece
For a fantastic Mediterranean holiday, the Grand Resort Lagonissi in Athens offers a bathing experience straight out of a movie. Beloved by several royal families, each villa features two master bedrooms, a cozy fireplace, fully equipped kitchen and outdoor dining areas. In addition, guests can swim in the indoor and outdoor pools, which can be heated upon request, and relax with massage treatments in the private areas.
Price: $50,000 per night
Necker Island
Owned by British entrepreneur Richard Branson, this exclusive far-flung island is located in the British Virgin Islands in the Caribbean Sea. Dubbed 'barefoot luxury', Necker Island is home to a variety of wonderful wildlife and nature both in the water and on land. Guests are accommodated in Balinese-style guest rooms, accommodating up to 48 adults and six children throughout the island. For those who do not wish to rent out the whole property, small group reservations are also welcome.
Price: $44,000 per night
Como Laucala Island, Fiji
While a regular trip to this exotic South Pacific archipelago could already cost a fortune, booking a night on the island of Como Laucala is another matter entirely. This private island resort features 25 detached villas spread over the hills, rainforests and oceanfront. Dive into the water, enjoy water sports, enjoy delicious food, practice your golf swings and much more in this fascinating place.
Price: $44,000 per night
The Raj Palace, India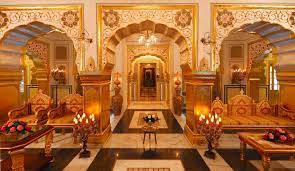 If you want to live like royalty in India, you can do so at the Raj Palace's spectacular Maharajah Pavilion. This four story condo spans 1480 square feet and features four bedrooms. In addition to the extravagant furnishings and fittings, the building features a private lobby, library, rooftop terrace, jacuzzi, swimming pool, private bar and private spa.
Price: $44,000 per night
Hotel Cala Di Volpe, Italy
Best known for its pristine beaches and azure sea, the Costa Smeralda in Sardinia is home to several luxurious resorts. Of particular note is the Hotel Cala di Volpe, a Luxury Collection Hotel. The exceptional penthouse suite features a private saltwater pool and a rooftop dining room and wine cellar, making it the most exceptional suite of all.
Price: $41,700 per night
Ciragan Palace Kempinski, Türkiye
Another place to relax like royalty is the Ciragan Palace Kempinski in Istanbul. The hotel is housed in a historic palace, the only Ottoman imperial palace of its kind. 310 guest rooms are perfect for any type of getaway, with spa facilities and world-class dining. Surrounded by a panoramic view of the city, the Sultan Suite is the most extravagant suite due to the spacious living room, kitchenette, jacuzzi and a private butler.
Price: $41,500 per night
[Hero and featured image credit: Grand Resort Lagonissi]

#expensive #luxury #resorts #world
More From Shayari.Page