When US soldiers reached the Wöbbelin subcamp in Mecklenburg in May 1945, they saw a terrifying sight. Many inmates of the camp, which had only existed since mid-April, had almost starved to death, and around 1,000 had died.
Prime Minister Manuela Schwesig (SPD) spoke at an ecumenical prayer on the 78th anniversary of the liberation of the camp from a warning to the people today. "Learning from history is our responsibility," she said, according to the press release. "Today and in the future, we stand for peace, freedom and an open society, for human rights and self-determination."
Wöbbelin: branch of the Hamburg concentration camp Neuengamme
On May 2, 1945, soldiers from the 82nd US Airborne Division had reached the Wöbbelin reception camp, which had only been set up on April 15. According to research by the Neuengamme concentration camp near Hamburg, which operated as its Wöbbelin satellite camp, more than 950 prisoners died of starvation and disease.
The US troops had the bodies exhumed by the Germans and given a public burial on May 7th and 8th. picture-alliance/ dpa | dpa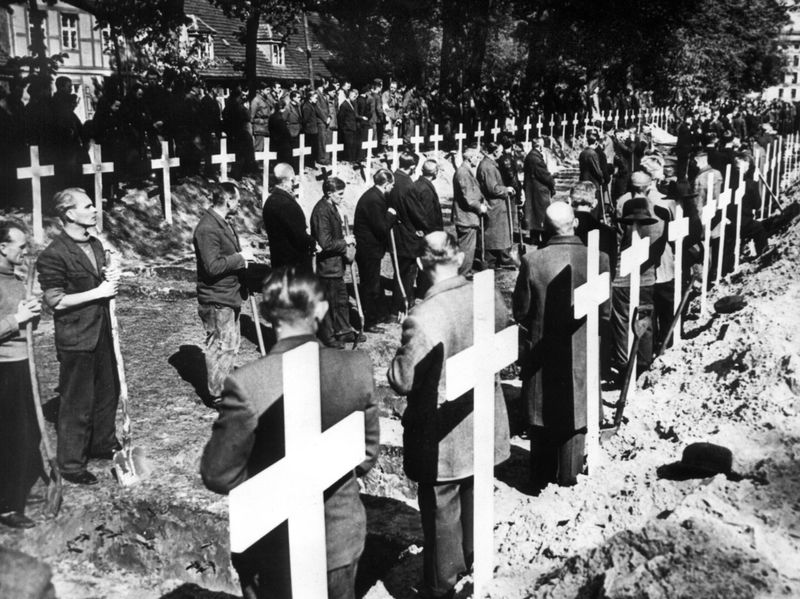 The National Socialists had brought prisoners from Kaltenkirchen, Porta Westfalica, Schandelah, Fallersleben and Helmstedt-Beendorf to the incomplete camp in Wöbbelin. On May 1, the SS tried to deport the survivors of the almost 5,000 prisoners to Lübeck by train, the memorial writes. The plan to cover up the traces of the mass extermination had failed because of the bombed-out train tracks.
You might also be interested in: Anyone who walked through this gate 90 years ago entered hell
After the liberation of the satellite camp by the German population, the US troops had the bodies exhumed and publicly buried on May 7 and 8 in Ludwigslust between the castle and the castle church as well as in Schwerin, Hagenow and Wöbbelin.
"Shortly before the end of the war, the National Socialists sent thousands of prisoners to Wöbbelin," says Schwesig. "Without food and without water, they left the people to themselves." (dpa / fbo)
#Wöbbelin #concentration #camp #people #died #weeks
More From Shayari.Page